TITLE: Garsington Revisited
AUTHOR SANDRA JOBSON DARROCH
ABOUT THE BOOK AND AUTHOR
 

Also available as an e-book and Print-on-Demand (POD) from Amazon.

GARSINGTON REVISITED by Sandra J. Darroch is a revised and updated edition of her original biography of Ottoline published by Chatto & Windus in 1976, and later in paperback by Cassell.  As well as being updated, the new book contains hitherto unpublished information about "the skeletons in Ottoline's cupboard", as Bloomsbury identity David Garnett called them. The book also has a selection of vignettes or Interludes about the extraordinary people Sandra met and interviewed, including the last surviving members of the Bloomsbury Group.

After reading a preview copy of Garsington Revisited, the eminent biographer Sir Michael Holroyd wrote: "It's a book of real originality.  All I can say is that it deserves both hands a 'Thumbs up!'.  With many congratulations, Michael."

THE TWO SYDNEY LAUNCHES OF GARSINGTON REVISITED

| | | |
| --- | --- | --- |
| Prince Paul | | Sandra J. Darroch |
| | | |

THE BOOK had two launches in Sydney and one in London (see below).
The first Sydney launch was at Gleebooks in Glebe on August 11 where the book and author were introduced by artist Paul Delprat aka Prince Paul of Wy (see video) and on August 18 at the Union, University and Schools Club, where, once again, the book was introduced by Paul who is an old friend of Sandra's and who accompanied her on several of the interviews she did over 40 years ago for her original biography of Ottoline Morrell.


Sandra gave a brief overview Of Ottoline's life, finishing with a quote from D.H. Lawrence: "After all, there is only one Ottoline, and she has moved my imagination."


Above all, said Sandra, Ottoline acted as a muse to some of the 20th century's greatest writers and artists.(see video of talk)

| | | |
| --- | --- | --- |
| The Gleebooks launch | Rob Darroch (standing) talks to Tim and Renate Yates | |

 
THE LONDON LAUNCH OF GARSINGTON REVISITED


The book was launched in London on July 11 in an elegant reception room in William Goodenough House in Bloomsbury, not far from Ottoline's forermer residence in Bedford Square.
President of the D.H. Lawrence Society of Australia,

Robert Darroch, addressing the audience at the launch
A week earluer, Sandra Darroch had delivered the opening talk at the 14th International D.H. Lawrence Conferene held in Bedford Square, where she described how Ottoline introduced Lawrence to London's literary society in 1916. Lawrence became a close friend but later caricatured her unkindly as Hrmione Roddice in his novel Women in Love.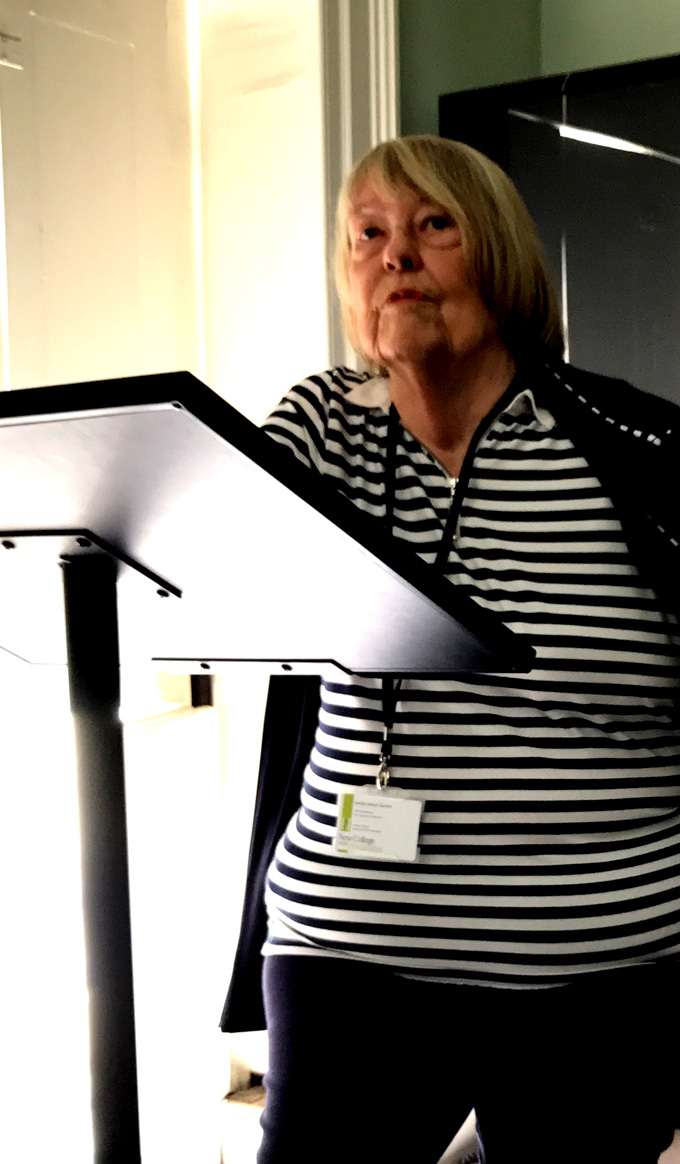 Sandra delivering her talk at the DHL Conference in London
The Sydney launch of Garsington Revisited will be held at Gleebooks on August 11. Details to follow.
Book Details
ISBN:
ISBN  e-book: 9780 86196 941 8
Imprint:
On Sale: Now
Pages: 446
List Price: Kindle $22.05 Paperback $30.27
Category: Biography